Oprichter 41 Club Nederland
Sjoerd van Esch
overleden
1971 – 2021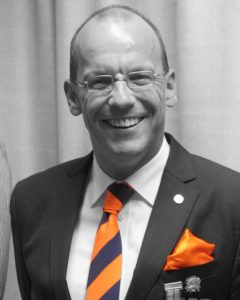 Beste 41 vrienden….
Het leven is soms zo oneerlijk…
Met heel veel verdriet moet ik jullie, ook namens mijn mede bestuursleden mededelen dat onze oprichter, eerste president, erelid en vriend Sjoerd van Esch vanmorgen is overleden.
Sjoerd ademde 41 Nederland uit in al zijn poriën, hij was degene die samen met zijn mannen alles op alles heeft gezet om ons de basis van de mooiste club van Nederland te geven. Sjoerd was vrolijk, humoristisch en kritisch en kon er enorm van genieten om te zien hoe er aan 41 Club Nederland gebouwd werd. Sjoerd bleef nauw betrokken bij de club en was als lid van de districtictsraad zeer actief verbonden aan de club.
Sjoerd is op deze pinksterdag in de vroege morgen overleden in het bijzijn van zijn geliefde Nelleke, zoon Ruben, dochter Benthe.
Zodra er informatie is, zullen we deze met jullie delen via deze appgroep.
Mocht je vragen hebben, of een bericht willen sturen, dan kun je ons bereiken via secretary@41club.nl
Namens het hoofdbestuur van 41 Club Nederland
Roald Herbrink
Nationaal president 2019-2021
Dear 41 friends….
Life can be so unfair….
On behalf of my fellow board members it is with great sadness that I have to announce that our founding father, first president, honorary member and friend Sjoerd van Esch has passed away this morning. Sjoerd breathed 41 Netherlands from his very core, together with his fellow men he gave us the foundation for the Netherlands most beautiful club. Sjoerd was always filled with happiness and in his humorous and critical demeanour tremendously enjoyed seeing 41Club Netherlands grow. Sjoerd continued to be closely involved in and was a valued member of the districts board.
Sjoerd passed away this dreary early Pentecost morning, close to his beloved Nelleke, son Ruben and his daughter Benthe.
As soon as information becomes available we will share this in this group
If you have any questions or would like to convey a message, we can be reached at:
secretary@41club.nl
On behalf of The Dutch National Board 41 NL
Roald Herbrink
National President 2019-2021